Description
2024 Arbor Wasteland Camber Snowboard
Forever Arbor's staple mountain twin, the Wasteland's classic and traditional real wood powerply inlay featuring Black Dyed Ash, Red Elm, and Palisander is the premium wood grain, mindfully crafted to grind, jump, carve, and cruise the entire mountain. The 4-point System Camber is optimal at speed, through steep and deep carves, while the System Rocker provides a more catch-free, surfy performance. The Wasteland is fully capable of finding(remove the)all-time rides in all terrain.
Camber Profile 
The System Camber -Arbor's Camber profile has a poppy ride with crisp, fully engaged performance. The parabolic camber has uprise fenders to help to keep the outside contact points from digging into the snow, thus creating a cleaner, less-catchy board.
Flex
7/10 - A stiff flex for aggressive riding. 
Shape
Grip-Tech – A tri-radial sidecut design that is not "blended." Natural shaping intersections, that in the past were eliminated, have been transformed into heel and toe contact points that provide a direct, more ergonomic way to grip the snow when additional control is needed.

Thunderhead Tip – Big-mountain versatility & speed in the deepest snow.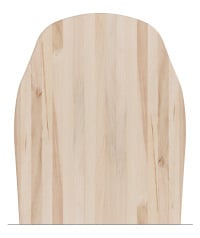 Core
FSC® Certified Highland II Core – A newly developed screening process has allowed Arbor to hand select the very lightest and highest quality paulownia from its sourcing partners. The result is a lighter, more responsive version of the FSC Certified Highland Core known for highly reliable return and long-lasting durability.
Laminates
Mixed Glassing – A triax over biax lay-up that's best for versatility: pow, backcountry, groomers, jumps and more.

Carbon Uprights – Two carbon fiber uprights running from the tip and tail to just past the inserts. A setup that provides added landing durability and pop for bigger park and backcountry performance.

Sidewalls
360° Rails – A 360°, fully wrapped sidewall that eliminates the need for tip fill, while effectively tying the whole snowboard together. A technology that delivers incredibly tight tolerances for improved board life and durability.

Recycled ABS – When a plastic alternative is unavailable, as in the case of ABS sidewalls, Arbor does its best to opt for a recycled material to improve the sustainability of its products.
Base
Zero Waste Base Technology – All of Arbor's die-cut bases feature Zero Waste Base technology. This process is essential to reducing Arbor's carbon footprint and eliminating waste during the manufacturing process.

Sintered Plus Base – Arbor's sintered plus base is mid-density material that demonstrates increased speed and durability while maintaining the ease of repair.
Edges
Recycled Steel Edges – Arbor uses the most sustainable components possible. All edges are made from recycled steel. Highly durable, recycled steel edges embody both quality and sustainability.
Topsheet
Bio-Plastic Topsheet – One of the materials Arbor uses in its quest to eliminate harmful petroleum based plastics from its production cycle. Made from castor bean oil, this eco-topsheet is extremely durable and water repellent.

American Black Walnut, El Dorado, Hand Dyed Ash Powerply

Additional Features
Entropy Bio Resin – Starting with the 2020 line, Arbor is proud to announce that all Powerplys and R.A.P. Topless Tech veneers will be made with Entropy Bio-Resin, a replacement for traditional petroleum based resin that doesn't affect performance or usability. The ingredients that go into Entropy Bio-Resin are sourced as co-products or waste products of other industrial processes and are manufactured employing green chemistry techniques that reduce the carbon footprint of the material by up to 40% when compared to its petroleum based equivalent.

Factory Tuned – Arbor detunes the tip and tail contact points on all of its snowboards for a catch-free ride before they leave the factory.

Wend Natural Wax – All Arbor snowboards hit the shop floor ready to ride with Wend Natural Wax.
Binding Compatibility
2x4 14-Pack Inserts
Board Size Chart
| | | | |
| --- | --- | --- | --- |
| Size (cm) | 156 | 158 | 161Mw |
| Effective Edge (mm) | 1172 | 1190 | 1216 |
| Tip Width (mm) | 293 | 295 | 306 |
| Waist Width (mm) | 251 | 252 | 262 |
| Tail Width (mm) | 293 | 295 | 306 |
| Sidecut Radius (m) | 8.7 ​/ 7.8 ​/ 8.7 | 8.8 ​/ 7.9 ​/8.8 | 8.95 ​/ 8.05 ​/ 8.95 |
| Stance Setback (mm) | 0 | 0 | 0 |
| Rider Weight (lbs) | 122 - 202 | 126 - 206 | 130 - 210 |
Need Expert Advice?
We know there are a lot of choices out there. If you need some guidance, let us know! Our experts have decades of experience and can help you narrow it down.
Contact Us