Description
K2's flagship premium freeride model is truly the sum of its parts, and is purpose-built for aggressive freeriding on steep and varied terrain. K2 built the Alchemist with premium materials featuring a fully cambered profile and the stiffest flex in our snowboard line.
Camber Profile
Directional Camber Baseline™ – The most responsive camber profile in K2's line features camber running from in front of the front foot to the tail of the board with slight early rise in the nose. This gives the rider the most precision and control possible in any terrain while still floating effortlessly in the deep stuff.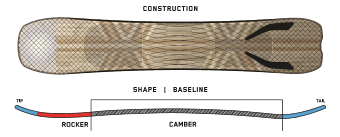 Flex
Flex Rating – 9/10 (1=Soft,10=Stiff)
Core
S1 Core – The smooth-flexing cousin to the A1 core, K2's new S1 core in designed to be damp underfoot and stronger than hell. Constructed from bamboo, aspen, and paulownia, the S1 core lets each wood do what it's best for. Tip-to-tail bamboo stringers add snap, durability, and dampening underfoot, and are balanced out by lightweight paulownia in the midbody, tip, and tail to help reduce swing weight. Underfoot, aspen and bamboo are placed at 30° angles to increase strength, supercharge edge-to-edge response, and increase pressure distribution along the edge.
Laminates
Triaxial Glass – A glass laminate with diagonal layers that adds torsional stiffness for increased stability and improved edge hold. The fibers three layers are woven at 45, 45 and 0 degrees. This makes for a more responsive ride longitudinally and torsionally.
SpaceGlass™ - An American made Aerospace grade precure fiberglass core insert used to provide unmatched structural performance at reduced weight. SpaceGlass™ inserts increase edge hold along contact points, reduce chatter, and provide unequaled durability.
Spectral Braid - Spectral Braid is a first of its kind variable angle reinforcement (Patent Pending) that allows for precision tuned torsion and flex by altering the fiber orientation along the length of the snowboards. Lively, energetic, and remarkably composed; snowboards with K2's Spectral Braid have stability and control in spades while remaining hyper-maneuverable. · Designed to enhance stability and control in all snow types, TORSION CONTROL DESIGN combines a progressive torsional flex, with a balanced and even longitudinal profile. Torsionally stiffest in the tip and tail, and more relaxed between the inserts, K2 Snowboards with TCD have both powerful, precise turn initiation and smooth, consistent release in all snow types
Carbon Power Forks - Equal parts snap and energy transfer, the ultra lightweight Carbon Power Fork™ additives are dynamically flexing to optimize the performance in a snowboard. Carbon Power Fork™ additives are strategically shaped to offer greater response and energy return by increasing the width toward the tail - allowing for more material to be engaged, and more energy to be created the harder the tail is flexed
Base
Wax-Infused Sintered 4001 Base – Built using the hardest and fasted sintered base material on the market from Crown, the Wax-Infused Sintered 4001 Base hold wax longer than other sintered bases for a smoother glide, longer.
Binding Compatibility
2 x 4 Inserts
Board Size Chart
| | | | | |
| --- | --- | --- | --- | --- |
| Size (cm) | 157 | 159W | 160 | 164W |
| Effective Edge (mm) | 1190 | 1220 | 1240 | 1240 |
| Tip Width (mm) | 297 | 311 | 301 | 315 |
| Waist Width (mm) | 250 | 263 | 253 | 266 |
| Tail Width (mm) | 291 | 305 | 295 | 309 |
| Sidecut Radius (m) | 7.8 | 8 | 8 | 8.1 |
| Stance Setback (in) | 0.75 | 0.75 | 0.75 | 0.75 |
| Stance Range (in) | 21 | 22 | 22 | 23 |
| Rider Weight (lbs) | 120-200​+ | 130-220​+ | 130-220​+ | 130-220​+ |
Need Expert Advice?
We know there are a lot of choices out there. If you need some guidance, let us know! Our experts have decades of experience and can help you narrow it down.
Contact Us