Description
2024 Never Summer Cougar Snowboard
ALL MOUNTAIN PERFORMANCE DIRECTIONAL
Never Summer has continued to expand on the Triple Camber innovation since its inception. The brand-new all mountain Cougar is equipped with cutting-edge Recurve Triple Camber — Triple Camber drawn into a camber-dominant profile. Pressed in the same shape as the former Hammer, riders will experience the familiar feel of a mid-flex, directional, 5mm tapered board but now with a powerful new store of energy. The performance-oriented Recurve Triple Camber allows for better edge hold than traditional camber, with explosive pop and boost in and out of turns, while maintaining superior float, forgiveness, and versatility.
Cougar X= Wide version
Camber Profile

Recurve Triple Camber - The Recurve Triple Camber is a variation of the Triple Camber profile, but drawn into a overall camber dominant profile. 
Extended Transition Area – Never Summer adds a small flat section in the snowboard profile that improves both turn initiation and powder flotation.
Flex
Flex Rating – 7/10 (1=Soft,10=Stiff)
Dampness Rating – 5/10 (1=Lively, 10=Damp)
Shape
Directional - This board has a longer, wider nose combined with a shorter, narrower tail for better float, smoother turns while still letting you ride switch easily.
Vario Power Grip Sidecut – Vario Power Grip Sidecut utilizes multiple radiuses creating extra contact points to enhance edge hold. A flat section in the rocker area provides a broad contact point when flexed, however when unbent allows the board to track straight and not catch. Flanking this straight section are two shallow radii which provide the second and third contact points. Towards the ends of the sidecut are deep radius which renders quick turn initiation and the final contact points.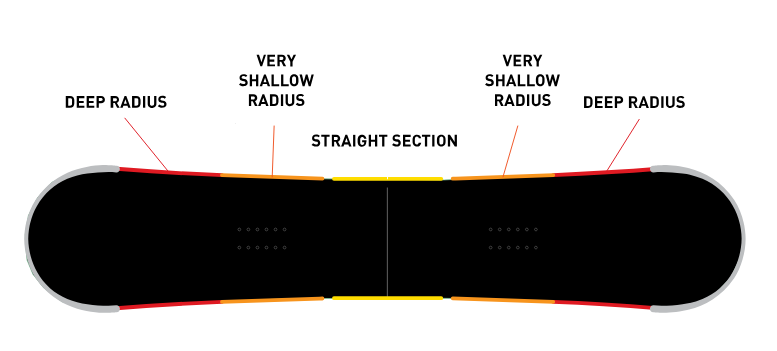 Core
NS SuperLight Wood - A combination of durable and lightweight woods create an unmatched strength to weight ratio. The worlds best snowboard fibreglass gives Never Summer boards their superior strength, edge hold and durability. Damping along the edges, underfoot and at the tip and tail provide stability at high speeds, and absorb vibrations.
Laminates
Carbon VXR Laminate - Carbon 'V' shapes that extend out from your inserts to the edges of the board, adding torsional strength to the board and giving the board extra energy when loaded up to pop.
Triaxial Fiberglass - Three directions of glass, for plenty of torsional response.

RDS 2 Damping System – This lightweight system uses three narrower laminated dampening layers that provide the perfect combination of vibration, absorption, and stability. RDS 2 is the perfect balance of freeride stability and freestyle liveliness.
Elastomeric Underfoot Stabilizers – Elastomeric Underfoot Stabilizers directly below the mounting area provide optimum vibration absorption and increase high-speed stability while reducing foot fatigue.
STS Pre-tensioned Fibreglass - Pre-hardened, pre-tensioned laminate that has elastomer stringers - which means that the board has top notch strength, edge hold and performance.
Co-Extruded Polymer Topsheet - A tough topsheet that's durable, lightweight, and scratch and chip resistant.
Sidewalls
Sintered P-Tex Sidewalls – Never Summer was the first snowboard company to use and perfect Sintered P-Tex Sidewalls, and they've never seen one crack. Unlike conventional ABS sidewalls that have a tendency to crack in colder temperatures, Sintered P-Tex Sidewalls maintain their integrity at any temperature.
Base
Durasurf XT Sintered 5501 Base – Crown Plastics has developed an exclusive, super fast, durable sintered base specifically for higher end boards. Just the right amount of graphite has been added making the Durasurf XT Sintered 5501 Base the fastest Never Summer has ever used.
Binding Compatibility
2 x 4 Insert Pattern
Board Size Chart
Size

(cm)

Waist Width

(mm)

Effective Edge

(cm)

Sidecut

Nose/Tail Width

(cm)

Taper

(mm)

148
244
114
Vario 738
28.7
0
154
251
119
Vario 742
29.9
0
157
253
122
Vario 764
30.1
0
158 Wide
264
122
Vario 764
31.2
0
160 Wide
266
123
Vario 781
31.3
0