Description
Never Summer Lady FR Snowboard 2023
The newest, exceptionally well rounded, performance dominant, most technologically advanced, user friendly, snowboard profile innovation ever created…is…ONLY AVAILABLE FOR WOMEN. We took the new Triple Camber Profile from the men's Proto FR, morphed it with the high-performance shape, flex, and Fusion Profile of the Lady West, and created the Triple Camber Fusion Profile for the Lady FR. Featuring a beautiful sublimated diecut base and WooBoo (wood and bamboo) core. The Triple Camber Fusion Lady FR is a game changer for women's snowboarding. It's the smoothest riding, confidence inspiring, edge holding, pow floating, all mountain performer of all time.
Camber Profile

Triple Camber Fusion – Every function of a snowboard is now improved with Never Summer's new patented Triple Camber Profile... edge hold, stability, power, pop, speed, float, forgiveness and smooth responsiveness. Words and images are never going to do this board justice!
Flex
Flex Rating – 8/10 (1=Soft,10=Stiff)
Dampness Rating – 8/10 (1=Lively,10=Damp)
Shape
Vario Power Grip Sidecut – Vario Power Grip Sidecut utilizes multiple radiuses creating extra contact points to enhance edge hold. A flat section in the rocker area provides a broad contact point when flexed, however when unbent allows the board to track straight and not catch. Flanking this straight section are two shallow radii which provide the second and third contact points. Towards the ends of the sidecut are deep radius which renders quick turn initiation and the final contact points.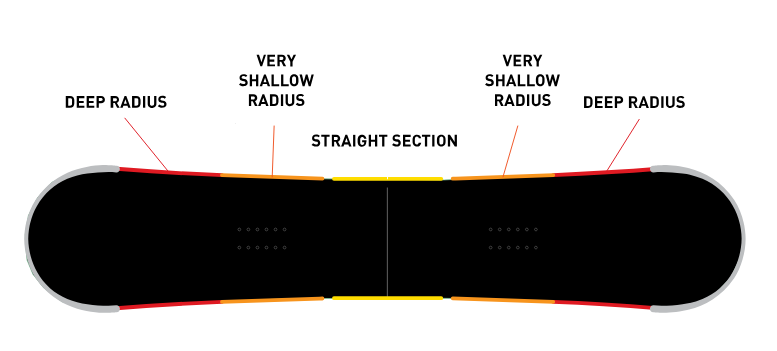 Core
WooBoo Core – The WooBoo Core is a precise mix of the highest quality woods and bamboo that brings out the ultra-performance in each material.
Laminates
STS Pretensioned Fiberglass – The world's best snowboard fiberglass, period. This advanced pre-hardened, pre-tensioned, layered laminate has added elastomer stringers between the 0 degree and 90 degree glass fibers (the length of the effective edge). This produces a stronger bond between the individual glass laminates giving our snowboards unmatched strength, edge hold and performance.
Bi-Lite Fiberglass – Bi-Lite Fiberglass combines many of the strength characteristics of Never Summer's STS fiberglass with an ultralight glass fiber matrix. This delivers incredible freestyle and freeride performance without sacrificing durability.
Carbon Max Laminate Technology – More carbon equals more power and performance. The Carbon Max Laminate Technology combines an advanced top and bottom carbon matrix to maximize response and strength where it's needed most. The result is a lightweight yet powerful configuration that provides torsional rigidity and energy transfer without sacrificing the control a rider needs.
Sidewalls
Sintered P-Tex Sidewalls – Never Summer was the first snowboard company to use and perfect Sintered P-Tex Sidewalls, and they've never seen one crack. Unlike conventional ABS sidewalls that have a tendency to crack in colder temperatures, Sintered P-Tex Sidewalls maintain their integrity at any temperature.
Base
Durasurf XT Sintered 5501 Base – Crown Plastics has developed an exclusive, super fast, durable sintered base specifically for higher end boards. Just the right amount of graphite has been added making the Durasurf XT Sintered 5501 Base the fastest Never Summer has ever used.
Topsheet
Premium Coextruded Polymer Topsheet – The Premium Topsheet is a durable, lightweight, scratch and chip resistant fiber backed thermoplastic. The premium topsheets also provide more grip than other topsheet materials, working as a built-in stomp pad.
Binding Compatibility
2 x 4 Insert Pattern
Board Size Chart
| | | | | | |
| --- | --- | --- | --- | --- | --- |
| Size (cm) | 144 | 147 | 151 | 153 | 156 |
| Effective Edge (mm) | 1090 | 1120 | 1160 | 1170 | 1220 |
| Tip Width (mm) | 279 | 280 | 284 | 287 | 289 |
| Waist Width (mm) | 235 | 236 | 238 | 240 | 241 |
| Tail Width (mm) | 274 | 275 | 279 | 282 | 284 |
| Sidecut Radius (m) | 6.84 | 7.08 | 7.4 | 7.42 | 7.5 |
Need Expert Advice?
We know there are a lot of choices out there. If you need some guidance, let us know! Our experts have decades of experience and can help you narrow it down.
Contact Us