Description
2024 Nitro Alternator x Volcom Snowboard
The new Alternator x Volcom is the result of listing to the Team Riders and focusing their experiences into a board that offers the best all-terrain ride on the market for any experienced rider. The Nitro Team and Volcom family have been avid riders of the Team Pro, the Banker, and Team snowboards for years. They wanted to take the best of all these boards and create a board that offers better performance on deeper days while maintaining that everyday ride feel. Dare we say a true Quiver Killer? The new directional shape and progressive width allow for more float and surface area for turns, sprays, and stomping, while the high kick in the tail allows for effortless switch pow riding. The specific blend of Trüe Camber, Reflex Core Profile, and Diamond Band provides natural flex and board support; Nitro is renowned for allowing you to maximize any situation. In addition, the Bi-Lite Laminates and Powerlite Core will provide a response and pop on and off natural or man-made features that professionals demand. Finally, the Sintered Speed Formula II will give you a new sense of speed that will keep you up at night—built specifically for those looking for the best All-Terrian Freestyle snowboard the world has ever seen.
Camber Profile
Trüe Camber – Good old standard camber, which provides the stability and pop many shredders can't live without. The amount of snap and support you get from a cambered board is unrivaled.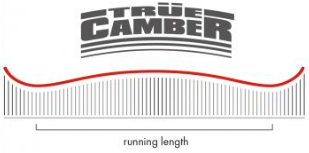 Flex
Directional All Terrain Flex – Nitro's most versatile flex pattern, combining their signature all mountain pop with smooth response, allowing you to tear up the entire mountain.
Flex Rating – 7/10 (1=Soft,10=Stiff)
Shape
Directional - A directional shape, with a longer nose than tail.
Dual Degressive Sidecut - A smaller radius sidecut in the centre along with two larger ones in the tip and tail make it feel loose, playful, and the most forgiving sidecut in the Nitro range.
Core
Powerlite Core – The highest grade of ultra-lightweight poplar wood in Nitro's Powerlite Core makes for the perfect ride with lots of pop and unmatched strength at a minimum weight.
Reflex Core Profile – A thinner core profile between your feet improves handling and increases torsional flex, allowing you to steer your board through a turn with ease.
Laminates
Bi-Lite Laminates – Nitro's rider-trusted Bi-Lite Laminates are engineered for a powerful riding style and a refined board-feel.
Base
Sintered Speed Formula II Base - This upgraded base material provides record-breaking speeds that allow you to go further that your peers with ease.
Binding Compatibility
2 x 4 Insert Pattern
Board Size Chart
| | | | | | | |
| --- | --- | --- | --- | --- | --- | --- |
| Length (cm) | Running Length (mm) | Waist (mm) | Nose / Tail Width (mm) | Sidecut (m) | Setback (mm) | Weight Range (kg) |
| 157 | 1110 | 254 | 298 / 293 | 10.8 / 6.8 / 10.8 | -15 | 60-80 |
| 160 | 1140 | 256 | 300 / 295 | 11.0 / 7.3 / 11.0 | -15 | 65-85 |
| 162W | 1140 | 264 | 308 / 304 | 11.0/7.3/11.0 | -15 | 70+ |
Need Expert Advice?
We know there are a lot of choices out there. If you need some guidance, let us know! Our experts have decades of experience and can help you narrow it down.
Contact Us