Description
This experimental ATV (All-Terrain Vehicle) snowboard is the brainchild of world-class ATV snowboarder Elias Elhardt. Designed to be the most fun and reliable snowboard you can have under your feet no matter where you find yourself on the mountain. The SANTOKU is so diverse even park-style masters have made it their go-to shred stick.
The SANTOKU snowboard is the ultimate "ATV" snowboard, guaranteed to be the most fun board choice underfoot in any condition or terrain. Built together with snowboarding ATV Elias Elhardt and backed by park-jibbers worldwide as the perfect snowboard to turn the entire mountain into a personal playground, with its All-Terrain Twin shape and extended tip and tail lengths allowing for more float in the pow and longer butters over the rollers. In addition, the beautiful combination of Trüe Camber and Diamond Bands provides the super pop and response you need for kicking out more airtime. At the same time, the Dual Degressive Sidecut and Whiplash Core Profile let you carve, and butter like it's your profession. The Santoku is built like a utility knife, providing the tools for any situation, and will allow you to make the entire mountain your personal playground.
Camber Profile

Trüe Camber – Good old standard camber, which provides the stability and pop many shredders can't live without. The amount of snap and support you get from a cambered board is unrivaled.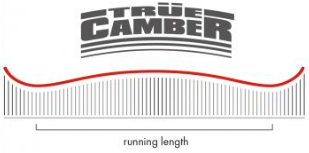 Flex
Directional All Terrain Flex – Nitro's most versatile flex pattern, combining their signature all mountain pop with smooth response, allowing you to tear up the entire mountain.
Flex Rating – 5/10 (1=Soft, 10=Stiff)
Shape
Dual Degressive Sidecut – This sidecut blends a smaller radius in the center with two larger radii in the tip and tail, making it loose and playful. Nitro's most forgiving sidecut.
Core
Power Core II – A tip-to-tail poplar wood core with beech wood stringers offers unrivaled strength, smooth response, and insane snap.
Reflex Core Profile – A thinner core profile between your feet improves handling and increases torsional flex, allowing you to steer your board through a turn with ease.
Laminates
Diamond Laminates – Well-balanced layers of carbon fiber establish a new level in performance. More snap and liveliness provide a smooth, powerful, and effortless ride.
Base
Sintered Speed Formula 2.0 Base – Rocket science, put to work! A nanotech wax formula deeply infused into into the sintered base material makes it lightening fast and extremely durable.
Binding Compatibility
2 x 4 Inserts
Board Size Chart
| | | |
| --- | --- | --- |
| Size (cm) | 156 | 159 |
| Effective Edge (mm) | 1005 | 1035 |
| Tip Width (mm) | 293 | 301 |
| Waist Width (mm) | 250 | 255 |
| Tail Width (mm) | 293 | 301 |
| Sidecut Radius (m) | 7.5 ​/ 5.5 | 7.5 ​/ 5.5 |
| Stance Range (mm) | 480 - 600 | 500 - 620 |
| Rider Weight (lbs) | 130 - 175 | 145 - 185 |