Description
2024 Nitro Team Pro Snowboard
The Team Pro's carefully engineered construction gives riders looking for a little extra performance to "level up" their riding effortlessly with a board shape they know and love. The tried, tested, and proper Directional Twin Shape and Dual Degressive sidecut provide the perfect blend of flex, edge hold, and control for any riding style. The Team Pros upgraded Diamond Bands offer astronomically more pop and response. Simultaneously, the upgraded Sintered Speed Formula II Base provides record-breaking speeds that allow you to go further than your peers and enable team riders like Sam Taxwood to clear infamous backcountry gaps and jumps. Finally, the Trüe Camber and Reflex Core Profile give you that snap and flex pattern that you demand "leveling up" your riding all over the mountain. The Team Pro is a board built for everyone who needs this level of performance. Therefore, we offer it in sizes for all snowboarders, no matter who you are or where you live, to allow more people to "level up" their riding this season. If you are looking for a familiar ride with plenty of upgrades under the hood for stealthy performance, then the new Team Pro is the board for you.
Camber Profile

Trüe Camber – Good old standard camber, which provides the stability and pop many shredders can't live without. The amount of snap and support you get from a cambered board is unrivaled.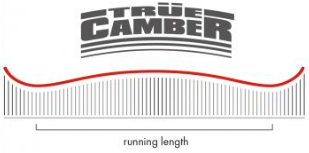 Flex
Flex Rating – 7/10 (1=Soft,10=Stiff)

All Terrain – Nitro's most versatile flex pattern combines Nitro's signature pop with smooth response for tearing up the entire mountain.
Shape
Directional Twin Shape – A versatile shape, performs best ridden regular but also rides well switch. The nose is slightly longer than the tail.

Dual Degressive Sidecut – This sidecut blends a smaller radius in the center with two larger ones in the tip and tail, making it loose and playful and one of Nitro's most forgiving sidecuts.
Core
Powerlite Core – The highest grade of ultra-lightweight poplar wood in Nitro's Powerlite core makes for the perfect ride with lots of pop and unmatched strength at a minimum weight.

Reflex Core Profile – A thinner core profile between your feet improves handling and increases torsional flex, allowing you to steer your board through a turn with ease.
Laminates
Bi-Lite Laminates – Nitro's rider-trusted Bi-Lite Laminates are engineered for a powerful riding style and a refined board-feel.

Diamond Laminates – Well-balanced layers of carbon fiber establish a new level in performance. More snap and liveliness provide a smooth, powerful, and effortless ride.
Base
Sintered Speed Formula 2.0 Base – Rocket science, put to work! A nanotech wax formula deeply infused into into the sintered base material makes it lightening fast and extremely durable.
Binding Compatibility
2 x 4 Insert Pattern
Board Size Chart
| | | | | | | | | | |
| --- | --- | --- | --- | --- | --- | --- | --- | --- | --- |
| Size (cm) | 152 | 155 | 157 | 157W | 159 | 159W | 162 | 162W | 165W |
| Effective Edge (mm) | 1140 | 1160 | 1170 | 1170 | 1180 | 1180 | 1210 | 1210 | 1240 |
| Tip Width (mm) | 289 | 291 | 293 | 307 | 295 | 309 | 295 | 311 | 313 |
| Waist Width (mm) | 246 | 248 | 250 | 264 | 252 | 266 | 254 | 270 | 272 |
| Tail Width (mm) | 289 | 291 | 293 | 307 | 295 | 309 | 295 | 311 | 313 |
| Sidecut Radius (m) | 10.7 ​/ 6.8 ​/ 10.7 | 11.0 ​/ 7.2 ​/ 11.0 | 11.3 ​/ 7.3 ​/ 11.3 | 11.7 ​/ 7.3 ​/ 11.7 | 11.7 ​/ 7.3 ​/ 11.7 | 11.7 ​/ 7.3 ​/ 11.7 | 12.8 ​/ 8.1 ​/ 12.8 | 12.8 ​/ 8.1 ​/ 12.8 | 12.4 ​/ 8.8 ​/ 12.4 |
| Stance Setback (mm) | 15 | 15 | 15 | 15 | 15 | 15 | 15 | 15 | 15 |
| Stance Range (mm) | 480 - 600 | 480 - 600 | 480 - 600 | 480 - 600 | 500 - 620 | 500 - 620 | 500 - 620 | 500 - 620 | 520 - 640 |
| Rider Weight (lbs) | 110 - 155 | 120 - 165 | 130 - 175 | 130 - 175 | 145 - 185 | 145 - 185 | 155​+ | 155​+ | 165​+ |