Description
2024 Nitro Victoria Snowboard
Designed specifically to offer the support and confidence needed to feel like anything is possible, the Victoria is a pro-caliber responsive and power deck. The Directional Shape combined with our TRÜE Camber allows for complete control and comfort when you reach terminal velocity speeds in any terrain. Nitro's Diamond Laminates and lightweight KOROYD® powercore technology reduce the overall weight. It absorbs chatter like nothing else, allowing the most experienced riders to weekend warriors to charge throughout the trail map. The Progressive Sidecut allows you to carve with ease and effortless style. The Victoria is a perfect match for experienced riders looking to charge all over the mountain, on and off the marked trails.
Camber Profile

Trüe Camber – Good old standard camber, which provides the stability and pop many shredders can't live without. The amount of snap and support you get from a cambered board is unrivaled.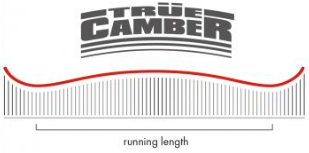 Flex
Flex Rating – 7/10 (1=Soft,10=Stiff)
Mountain Flex – With maximum response and drive for fast, all-mountain riding. This snappy flex pattern creates a powerful boards for powerful riders.
Core
Koroyd Powercore - A latest in core technology, the Koroyd Powercore is made up of vertically aligned and welded tubes that are approximately 70% lighter than regular balsa wood, with no loss in strength or flex.
Reflex Core Profile – A thinner core profile between your feet improves handling and increases torsional flex, allowing you to steer your board through a turn with ease.
Laminates
Diamond Laminates – Well-balanced layers of carbon fiber establish a new level in performance. More snap and liveliness provide a smooth, powerful, and effortless ride.
Base
Sintered Speed Formula 2.0 Base – Rocket science, put to work! A nanotech wax formula deeply infused into into the sintered base material makes it lightening fast and extremely durable.
Board Size Chart
| Size | 146 | 149 | 152 | 155 |
| --- | --- | --- | --- | --- |
| Waist Width | 234 | 238 | 242 | 244 |
| Running Length | 1090 | 1120 | 1140 | 1160 |
| Sidecut | 7.9 / 6.9 | 8.1 / 7.1 | 8.3 / 7.3 | 8.5 / 7.5 |
| Nose/Tail Width | 275 / 275 | 281 / 281 | 285 / 285 | 287 / 287 |
| Stance Range (cm) | 44-56 | 46-58 | 46-58 | 46-58 |
| Stance Range (in) | 17.3-22.0 | 18.1-22.8 | 18.1-22.8 | 18.1-22.8 |
| Rider Weight (kg) | -65 | -65 | 45-65 | 50+ |
| Rider Weight (lbs) | -145 | -145 | 100-145 | 110+ |
| Setback | -15 | -15 | -15 | -15 |